CLICK HERE to request your Absentee Ballot online for the November election! You can also request a ballot by stopping in or calling the Town Office (207) 549-5175.
CLICK HERE to read the Executive Order to Facilitate the November 2020 General Election.
Result for Town Elections held July 14th, 2020 are as follows:
Select Board (3 year term)
Charlene Donahue winner with 421 votes
Bill McKeen winner with 408 votes
Planning Board
Kristin Margaret Smith Mason with 494 votes
Road Commissioner
David Boynton with 499 votes
RSU #12 School Board (1 year term)
Suzanne E. Balbo with 66 votes
RSU 12 Ballot, count for WHITEFIELD ONLY
Question #1 School Budget: 429 yes, 146 no
Question #2 Adult Ed Program: 381 yes, 188 no
"Voting is the foundation stone for political action" - Martin Luther King Jr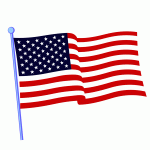 Maine Town & City Clerks Association & The  Maine Municipal Association have teamed up and created a website dedicated to recruiting election workers. CLICK HERE to check it out!
Click on "Election Results" below to see the local results for the Primary Vote held 3/3/2020.