Whitefield Recycling Center
Located behind the Town Office at:
36 Town House Road
Hours of Operation are
Saturdays from 8:00 AM to 12:00 PM
CLICK HERE for a full list of what can be brought in for recycling.
CLICK HERE to access an FAQ flyer from the Recycling Center.
E- Waste
Whitefield Recycling Center offers electronic recycling for FREE. Please note that we do not accept wet electronics as it ruins the salvageable pieces. Also, our space is limited, please only bring a few pieces at a time.
We can accept computers, monitors, televisions, printers, fax machines, portable DVD players, game consoles, copiers, and related equipment.
Cell phones are accepted and donated to victims of domestic violence.
Swap Shop
The Recycling Center also has a swap shop. This is a spot where you can donate reusable items, or pick up something you are in need of, for FREE. Everything that is brought in must be checked by the attendant on duty. The attendant may opt to not accept some items. If it doesn't get picked up by another customer, we will be out the cost to dispose of it.
Some suggestions for the swap shop are small household items/decor, seasonable clothes, and books!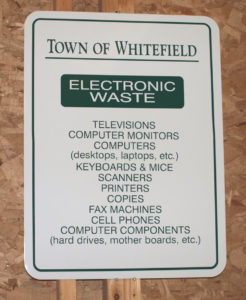 Trash/Land Fill
Whitefield residents may purchase a sticker to use the Hatch Hill Land Fill in Augusta. For more information you can call 626-2440 or visit the Hatch Hill webpage by CLICKING HERE.